Service for Checking the Interaction of Drugs DDI-Explorer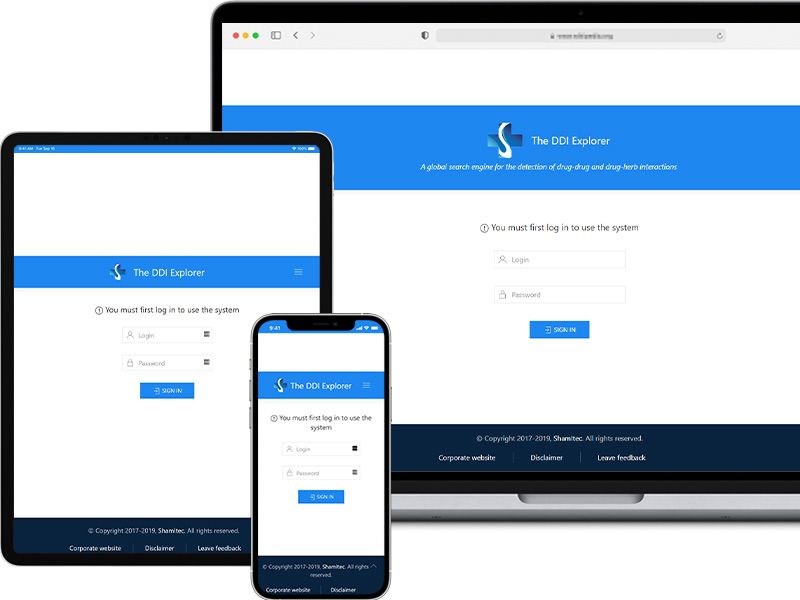 Date: 2017

Country: Jordan

Client: ShamItec
Scope of work
Developing the UI and the client app for the drug interaction testing service.
Technical support
About the project
The project consists of:
designed definition method drug-drug interactions for two or more drugs or finished products dosage forms
own drug database
a tool in the form of a website (web application) called DDI-Explorer, which implements the above method using this database
Project Tasks
Minimize preventable recipe errors that can cause an unexpected or adverse reaction to a drug;
compose rational and optimal drug dosage regimens.
Determination of all drug interactions for one drug substance (relevant in academic, educational and reference purposes) or for a set of medicines or ready-made dosage forms prescribed to patients (relevant for medical goals and objectives of health care, as well as in solving legal questions and implications).
Service Features
selection of one or more drugs from the list (database)
View documented drug interactions that are presented in dynamic interactive matrix format
search and display information on drug interactions obtained from 12 various internationally recognized drug databases
search for probable interactions expanded to drug interactions that are described corresponding therapeutic groups or classes, therefore, all kinds of drug-drug interactions are identified
provides information about induced effects, interactions associated with enzymes (kinetic interactions), and object (dynamic) interactions
The
method also recognizes prodrugs and/or active metabolites with common interactions other characteristics. Provides access to reports on interaction either for drug/prodrug or drug/active metabolite.